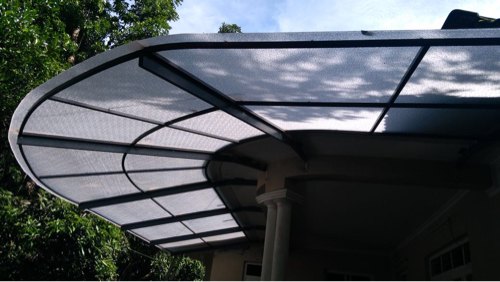 Why Is Polycarbonate Roofing The Perfect Choice?
By Roofing Supermarket, In Polycarbonate Roofing, 0 Comments
When it's time to do roof replacements or roof updates, it will benefit your project and property if you took the time to consider polycarbonate roofing in Sydney. Specifying a polycarbonate solution will give your building excellent interior light where needed, exceptional durability in all weather conditions, and with its UV rating, your roof will withstand sun, hailstorms, vandalisms and a list of anomalies.
A recent roof replacement project in ACT specified 4.5 mm thick polycarbonate panels in an attractive matt finish. The roofing contractor cut lengths of 4.1m from the original spools, and they achieved a stunning result. Not only were aesthetic goals surpassed, but the product's durability will outlast the project's material-lifespan goals.
Polycarb also performs very well when used in balustrades and other glazing applications. Its superior performance is a result of its impact strength which is 250 times stronger than standard glass.
Another factor that makes it a hot favourite of architects, architectural drafting technicians, and builders is that polycarbonate roofing curved into exciting architectural creations with no risk of cracking. You can use lengths of 50 m long and 2,540 mm wide to eliminate joints, creating long warehouse roofs or impressive lightboxes. 
The range of polycarbonate on the market allows you to let your imagination run wild. No matter what your taste or budget needs are, you will find an option that will excite you from multi-wall polycarbonate lightweight panels, translucent composite panels, scratch-resistant, anti-slip finishes to opal polycarbonate. The product is also incredibly light to transport and very easy to handle on-site, making installations faster and more affordable.
The roof of a building is a vital part of the waterproofing and weatherproofing of the structure. In addition, it contributes significantly to the aesthetic and value rating of the building. Additionally, it is a critical part of the thermal management of the interior. It is, therefore, essential to get the correct roof material specifications from day one. 
Eco-Friendly Materials
With an accelerating demand and need for energy-efficient buildings, polycarbonate roofing sheets are becoming increasingly popular in the Sydney construction industry. The product's carbon footprint is reduced due to lowered fuel consumption in transport, and the multi-wall sheets have improved heat retention by 30%. In addition, with the correct use of the opal panels, you can filter out 50% of the sunlight while diffusing the remaining light effectively. 
To get the best advice on polycarbonate roofing in Sydney, contact our team of roofing specialists. They look forward to helping you achieve the best roofing result for your project.